Even though Tanzania has experienced economic growth over the last few years, the country still remains one of the poorest in the world (the country is ranked 152 on the 2011 Human Development Index). In the field of education, significant progress has been accomplished with primary school enrolment rates ranking up to 96%. However, almost one third of children between the ages of 5 and 14 are forced to work to provide for their families' needs, essentially in the agricultural or informal sector [1].
Sexual exploitation of children is a phenomenon that raises growing concerns in the country. The vast majority of children involved in prostitution in Tanzania are girls between the ages of 9 and 17, often orphans or from families headed by women[2]. In addition, almost 60% of girl domestic workers, called "little maids", are sexually abused at their workplace; thus highlighting the close relationship between child labor and sexual exploitation[3]. Besides HIV/AIDS and extreme poverty, ignorance and lack of information are also factors contributing to child sexual exploitation in Tanzania.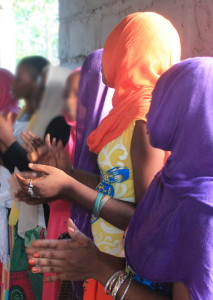 Tanzania has made numerous efforts to improve its internal legislation as regards to child sexual exploitation, as well as its coordination between the different relevant government services, especially through the creation of a cross-sectorial committee on child labor. However, many gaps remain, particularly with child protection and with the lack of information from the police on such questions.
In Tanzanie, we are working with Mapambano Center for Children Rights, an association created in 2002 to promote children's rights in Tanzania by combating practices such as early marriage, female genital mutilation, and child sexual exploitation. Through the development of young girls clubs and the reintegration of orphans into schools, Mapambano ensures the prevention of violence against vulnerable children by allowing them to become involved in the protection and promotion of their own rights.
---
[1]
United States Department of Labor, 2010 Findings on the Worst Forms of Child Labour – Tanzania, Octobre 2011
[2]
Investigating the worst forms of child labour N°12 – Tanzania, Children in prostitution : a rapid assessment, ILO, 2001
[3]
Dickinson Daniel, Tanzania « housegirls » face sexual abuse, BBC News, 2007